In our previous post about Apple's iOS6, we talked about the new Apple maps feature not having transit directions – an absolute necessity for the modern clean commuter.
To their credit, last Friday, Apple admitted to their short-comings with the new maps app, and said that they are hard at work to rectify it. We don't know what that means for transit riders, specifically, but we're hopeful.
In the meantime, we've done some research and come up with the best alternatives for you to easily navigate around town. Unfortunately, only one of these apps works in Atlanta (for now), but we'd still like to showcase some of the world's best transit apps.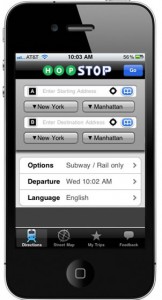 1. Hop Stop – This is one of the top transit apps available, and it's free! Not only does is work on the iOS system, but also on Android and in a web browser. The best part is that it works with MARTA.
2. NextStop – If you're ever in NYC and need a great app for getting around on the massive subway system, this app will come in handy. It's even got train delay notifications.
3. iBart  -This app is for the San Franciscans. It include directions for both trains and buses. This system is created by Embark who have developed several transit routing apps for major cities. Unfortunately Atlanta is not one of them.
4.NYC Mate – This another great app for New Yorkers, but this app has got bus directions too. It even includes New Jersey!
5. LTWatch – One of Canada's better apps for London-Ontario offers real-time bus tracking in addition to its directions function.
6. London Tube – Obviously this app is for London, but it offers all of the official maps for each system, as well as a trip planning function.
7. Google Maps: No, Google has not released a downloadable maps app for iOS6 (rumor has it that it's in the works), but all smart phones can access Google Maps through their web browser via the HTML 5 app. It's no flashy app, but it is the exact same interface that you've been using for years.
8. ChiTransit – This app not only provides transit directions for Chicago, but it also tracks the buses and trains in real time.
9. The Transit App –  This one's got loads of potential; it's just a matter of ironing out the kinks with iOS6. Offering multi-colored routes, trip planning, departure time, and even a trip memory, this could be the most comprehensive transit app yet. And the best part is that it's FREE! It is available in 21 major cities–unfortunately, Atlanta is not on the list yet.
Sources say that Atlanta's MARTA is in the works of outsourcing with some third-party developers to bring Atlantans a better, more powerful app. For now, we recommend you use HopStop, or plan ahead with Google and Marta's real time bus locator before leaving the house.