Thanksgiving is coming up, and you know what that means: the season of face-stuffing is about to begin. Between Thanksgiving, various holiday parties, and New Year's celebrations, the American social scene centers around one thing: food.
Yeah I know, the holidays are supposed to be about family and fellowship. We all say that, but I know it's really about the tasty, tasty treats that you only get to eat this time of year.
Now as you can imagine all those trips to and from the store aren't great for our air or the environment. Think about all the exhaust fumes that your car pumps into the air each time you go to and from the store. Just remember that every mile is about 1 pound of air pollution. So what can green choices can we make to help?
Green: Bike or walk to the store.
Riding your bike is a great way to cut the everyday air pollution that comes from short trips. It's definitely a great way to start solving the problem. Not to mention you can exercise while running errands. What a time saver!
Greener: Buy local.
Buying foods from the supermarket is super-convenient, but it can be bad news for the earth. Just think about all the energy (and air pollution) it takes to ship the things you buy to the supermarket. Say you live here in Georgia and buy avocados from California. That's 2,456 miles away. And when you consider that every mile driven puts one pound of pollution into the air, we're talking about almost 2.5 tons of air pollution for one avocado truck. Seriously?
So how can you enjoy your tasty holiday foods (and everyday foods), and still cut air pollution at the same time? Well, it's really pretty simple – the idea is to buy local.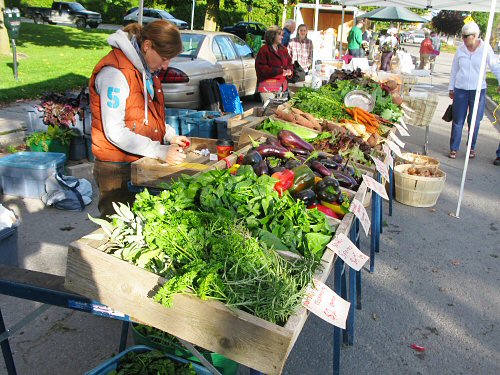 You can cut out the thousands of miles, and tons of air pollution by making a trip to your local farmer's market. They bring in local, organic foods that are way fresher (didn't spend a week on a truck), taste even better, and are from local businesses near you. Check out the Dekalb County Farmer's Market, that place is incredible.
Greenest: Grow your own.
Ready to really go the extra mile? Let's talk about having a garden at home. Check out our Pinterest board for ideas.
Believe it or not, growing your own veggies is easier than you think. Just imagine walking into the back yard to grab dinner. You've not only cut out nearly all environmental costs, but you're probably saving lots of money—while eating better quality food.
Super-Ridiculously Green: Go vegetarian.
This one might not be so popular. But hear us out.
Environmentalists have started spreading the word that going vegetarian or vegan packs an even bigger punch in the fight for clean air. When you don't have to transport thousands of livestock for food, you cut out a good chunk of transportation-related pollution. Also, let's face it—that all-bacon diet is probably not the healthiest decision you've ever made.
And think about this: we're not talking all-or-nothing here. A lot can be changed just by becoming a sometimes vegetarian. Some research shows that cutting out meat even one day a week can make some pretty dramatic changes to air pollution AND health.
If you're worried about missing out on all the tasty holiday foods, here's a solution for that problem.
Even if you always buy local, or grow your own produce, there are still some things you have to get from the store. That's ok—sometimes you just have to get what you need. Just remember the more local products you buy, the better off our air is!
For a full breakdown of the benefits and costs of buying local or international foods, check out this infographic.